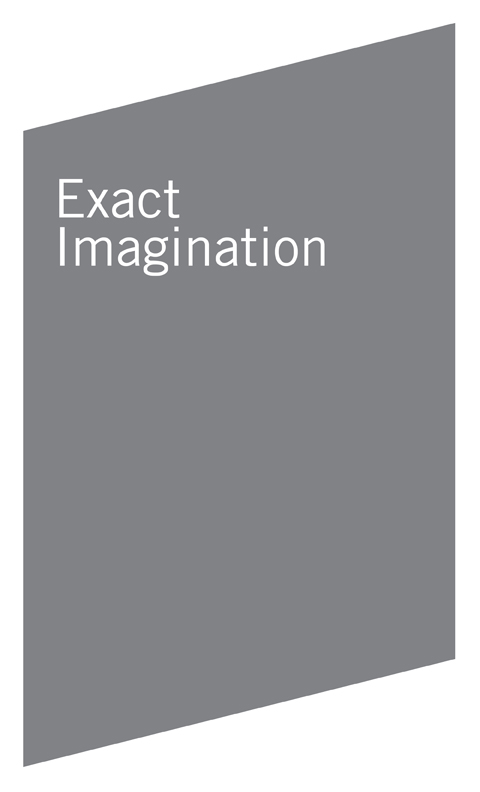 Article Number: 3202
Soft Cover,
English
, Glue Binding, 59 Pages, 2008
Exact Imagination
€ 18.00
BUREAU FOR OPEN CULTURE This catalogue is published in conjunction with the exhibition Exact Imagination curated by James Voorhies. Organized by Columbus College of Art & Design, the exhibition was on view from February 13 to April 5, 2008 at Canzani Center Gallery on the CCAD campus.
BANK, Andrea Fraser, Gaylen Gerber, David Ireland, Christian Jankowski, Louise Lawler, N55, David Ording, Red76
EXACT IMAGINATION is about the experience of art, however one may have it, via gallery exhibitions, social engagements, books, reproductions, academics, or simply by being alive.
Taking its inspiration and title from the Frankfurt School philosopher Theodor Adorno and his analysis of aesthetic experience in which he argues that subjective and objective forces collide to determine a viewer's perceptual reception of art—how it makes them feel, what they take away from it, what they draw up inside of them to relate to it—this exhibition includes art that encourages both concrete and immaterial aesthetic explorations. With this in mind, Exact Imagination investigates the authority of the institution and its effect on the viewer. It provides conditions for experiencing the way institutional devices leverage reactions to art in divergent forms of encounters, either by inspiring an internal aesthetic response to art objects (as does any exhibition or work of art) or by requiring from viewers literal participation in social exchanges. The artists in this exhibition examine with criticism and humor the institutionalization of art, exhibitionmaking, academic production, artistic resistance, and a wide range of other influences that affect how people get access to, read about, study, view, reflect upon, and bring forth an imaginative response to art.
James Voorhies