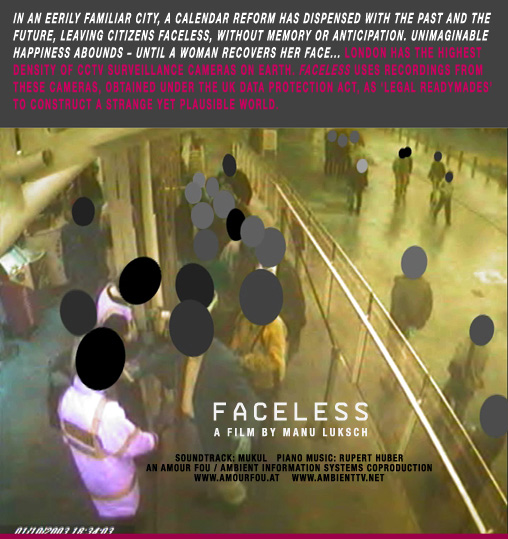 Faceless (DVD)
availability unknown, if interested please write an email
A CCTV sci-fi fairy-tale In a society under the reformed 'Real-Time' Calendar, without history nor future, everybody is faceless. A woman panics when she wakes up one day with a face. With the help of the Spectral Children she slowly finds out more about the lost power and history of the human face and begins the search for its future.
FACELESS was produced under the rules of the 'Manifesto for CCTV Filmmakers'. The manifesto states, amongst other things, that additional cameras are not permitted at filming locations, as the omnipresent existing video surveillance (CCTV) is already in operation.
Making Of: The UK Data Protection Act and EU directives give individuals the right to access personal data held in computer filing systems. This includes images captured by CCTV recording systems. For a nominal fee (£10), an individual can obtain a copy of this data: financial or medical records, or video recordings. Other legislation states that the privacy of third parties must be protected. In CCTV recordings, this is done by erasing the faces of other people in the images - hence the 'faceless' world.
voice: Tilda Swinton
choreography: The Ballet Boyz
soundtrack:Mukul, piano music: Rupert Huber
produced by AMOUR FOU and AMBIENT INFORMATION SYSTEMS
50 Min
Language: English
Subtitles: German, French, Czech
Region Free DVD