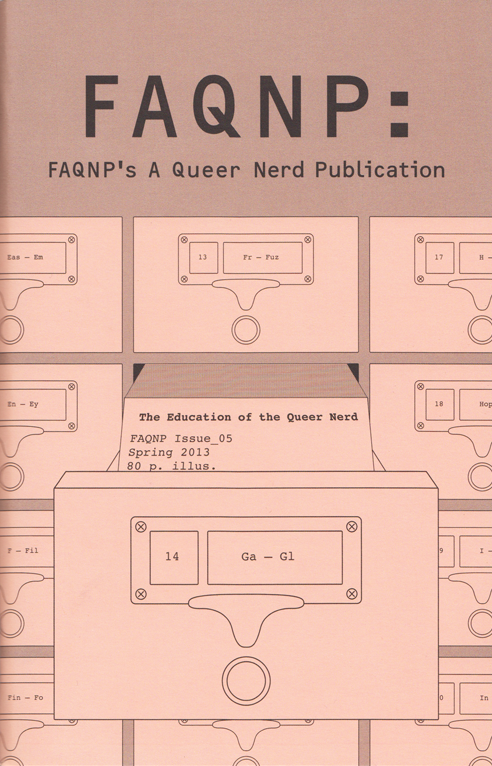 Article Number: 6806
Soft Cover,
English
, Staple Binding, 80 Pages, 2013
The Education of the Queer Nerd
FAQNP: FAQNP's A Queer Nerd Publication, Issue 5
availability unknown, if interested please write an email
The fifth issue of "FAQNP" looks at "visualizations" of queer nerds. The title of the publication is a recursive acronym (popular in programming communities). Design elements of the publication are intentional to the smallest detail - the font used is OCR-B, designed early in computer production to be easily read by both computers and the human eye.
Contributors to this issue include Justin Allen, Eloisa Aquino, Zach Blas, Ray Cha, Yulan Grant, Matthew Hittinger, Anne Ishii, Graham Kolbeins, Jenny Lin, Mike McLeod, Erich Nagler, Chris Noessel, Brandon Owens, Paul P, Dan Rhatigan, Schott Treleaven, and Chris Wilde.
Features include a profile of the duo MASSIVE who made gay manga available to English-speakers, a typographical study of classic gay porn magazines, and photographs of artist Zach Blas' "collaboration masks", created by aggregated facial data that show how technology can interact with gender, race and sexual orientation.
Language: English