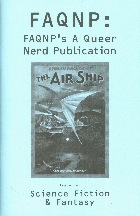 Article Number: 4481
Soft Cover,
English
, Staple Binding, 88 Pages, 2012
FAQNP: FAQNP's A Queer Nerd Publication
Science Fiction & Fantasy
€ 13.00
The magazine is created by and for queer nerds who feel outside the mainstreaming of queer culture. It covers the ordinary lives and interests of queers, because the ordinary is often quite interesting.
Issue_04: Science Fiction & Fantasy examines the kinship many queer nerds have with speculative fiction.
FAQNP is a print and digital magazine on queer nerd culture edited by Ray Cha.
Language: English