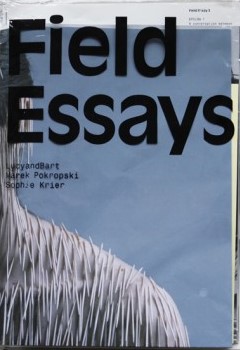 Article Number: 250
Hard Cover,
English
, Staple Binding, 1900
Field Essays
availability unknown, if interested please write an email
Why I consider design first and foremost as an ethical and cultural practice, which is in great need of a constructive, critical discourse. To this end, Field Essays explores the margins of the design field, in search of contemporary meaning.
How
The first issue of Field Essays analyzes how behaviour constantly shapes the ways, in which our body interacts with the world and vice versa. Whether on a routine basis or erratic, behaviour is a direct and often unpredictable manifestation of how we perceive, and react to things around us - an uncompromised, embodied cultural phenomenon. The absurd human enhancements of LucyandBart, which let the skin perform as an intimate interface with the material world, are presented alongside an essay by Polish philosopher Marek Pokropski, in which the borders between self, body and surrounding dissolve in the dynamic structure of behaviour.
Next
Field Essays has the ambition to become a bi-annual publication, an analog journal by and for critical thinkers and makers. For each issue, specific practitionners are invited to reflect on their current work, both visually and textually. A related expert is asked to contextualize the work at stake. Interviews and notes provide further insight into the choices that were made in editing the process into the final journal.
Language: English