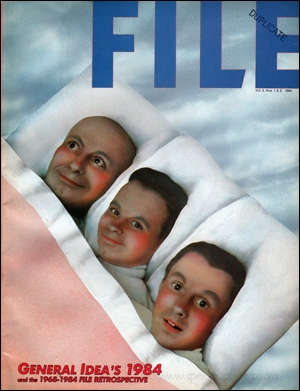 Article Number: 10896
Soft Cover,
English
, Glue Binding, 142 Pages, 1984
FILE Megazine
("General Idea's 1984 & the 1968-1984 FILE Retrospective," Vol.6, #1/2, 1984)
availability unknown, if interested please write an email
Double retrospective issue including texts by General Idea, Jo-Anne Birnie Danzker, Michael Morris & William Burroughs.
Special issue of the periodical FILE published in conjunction with exhibition "General Idea's 1984" held at the Vancouver Art Gallery, Canada, June 8 - July 29, 1984. Edited by General Idea, AA Bronson, Jorge Zontal, and Felix Partz. Essays "The New York Corres-Sponge Dance School of Vancouver," "Eat Your Art Out," "How Well Are The Artists Eating?," "Candyland," "The Newest Utopia," "Foundations," "Sometimes Women Have To Carry Banners," "Art City," "Image Bank," "Image Exchange," "Artist's Directory," "Spectrum Research," by General Idea.
Sprache: Englisch