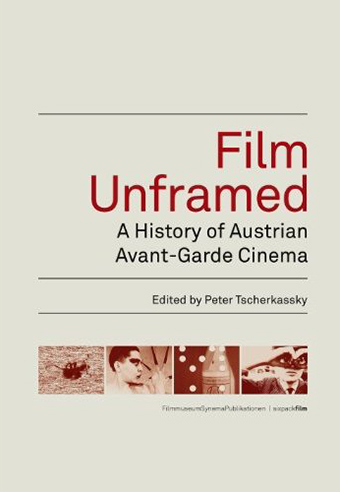 Article Number: 3454
Hard Cover,
English
, Glue Binding, 368 Pages, 2012,
Film Unframed
A History of Austrian Avant-Garde Cinema
€ 28.00
The core of this book consists of a richly illustrated text that provides an exhaustive description of avant-garde film production in Austria, both past and present. (Engl.)
"Austrian avant-garde cinema bears a resemblance to materialist and visionary aspects of the American avant-garde, while also manifesting a subversive social critique kindred in spirit to European auteur cinema. This 'third way', staked out by Austrian filmmakers and revealed by this volume, is a unique brand of anti-traditional tradition, equally devoted to rigor and precision as it is to fomenting chaos and liberating energy. It is a counter-universe that uses cinema to penetrate new realms of experience. This book helps us enter its delights and dangers." (Tom Gunning) The overview written by editor Peter Tscherkassky is accompanied by a compilation of monographical and thematic essays authored by an international group of critics and theorists. Among the filmmakers discussed in individual articles are Peter Kubelka, Kurt Kren, Valie Export, Maria Lassnig, Martin Arnold, Dietmar Brehm, Ernst Schmidt Jr., Lisl Ponger, Mara Mattuschka, Hans Scheugl, Ferry Radax, Peter Tscherkassky and Marc Adrian.