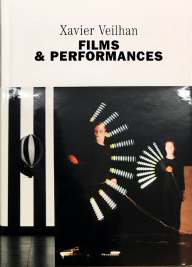 Films & Performances
availability unknown, if interested please write an email
A major figure of the French arts scene, Xavier Veilhan (born in 1963) lives and works in Paris. His work is the result of a plural practice, shared between sculpture, painting, environment, live performance, video, and photography.
He has been the subject of many solo exhibitions, in France at the Musée d'Art Moderne de la Ville de Paris (1994), the Centre Pompidou (2004), or the Château de Versailles (2009); but also abroad: Hong Kong, Seoul, Barcelona, London, Los Angeles and New York among others. In 2017, Xavier Veilhan represents France at the Venice Biennale with Studio Venezia, an immersive framework in which musicians from all over the world come to collaborate for seven months.

Through an interview with the artist, critical texts, but also a selection of essays by various performers, philosophers, or poets, the book deals with two sides of Xavier Veilhan's production, film and performance: both practices are at once distinct yet complementary, with each questioning context and its relationship to images in its own way.