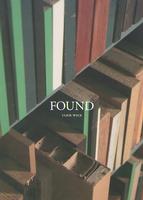 Found
availability unknown, if interested please write an email
Danish artist Ulrik Weck's (*1972) practice spans a wide range of media - neon signs, paper works, photography, three dimensional objects, and installations (Quelle: Verlag).
Working from a conceptual idiom, he often addresses humor and comedy in his works (by appropriating and tweaking linguistic tropes for instance) but the works also probe the poetic indeterminacy of our everyday surroundings. Rather than seeking out the extraordinary, they gravitate towards the unmonumental and offer a fresh look on things that engages the confounding and self-contradictory aspects of contemporary culture.

The publication focuses on a series of works by Weck entitled 'Found' that was initiated in 2007. Made from discarded cabinets, doors, sheets of plywood, and other materials found lying in the streets of the artist's native Copenhagen, these sculptural works and installations often reference bookshelves. Yet it is not books, but cut up pieces of wood and other fragments, that inhabit this archive of material culture, that juxtaposes mass manufactured materials with handmade parts from the early 20th century.

Of the books 28 pages 24 are illustrated and depict works and the urban scenarios from which their constitutive materials have been culled. An essay by Danish art historian Jonas Jørgensen takes up the remaining pages.