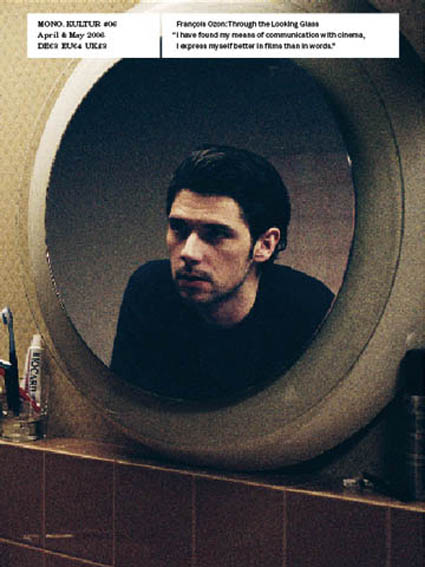 mono.kultur #6: Francois Ozon
Through the Looking Glass
availability unknown, if interested please write an email
mono.kultur is an interview magazine in full length and depth, extensive and unfiltered. One interview per issue. Quarterly. #6 features François Ozon. Interview by Patrick Heidmann Photography by Jean-Claude Moireau Design by Serge Rompza
At first glance, there really seem to be some parallels between Romain, the protagonist of François Ozon's latest film, Time to Leave, and the director and screenwriter who invented him: Both are young artists in their thirties, brought up in a loving and supportive upper middle-class family in Paris and are self-conscious about their homosexuality.
But while Romain's story is about death, as the photographer is suffering from a terminal form of cancer, François Ozon and his films couldn't be more alive and prosperous. How else could he have made divas like Catherine Deneuve and Isabelle Huppert burst into song and dance for 8 Women or have Charlotte Rampling give the most earnest and staggering emotional performance of her long lasting career in Under the Sand?
While living out his passion for film in homemade Super8 movies (with his parents and siblings posing as actors) early on, he enrolled at the famous French film school, La Fémis, at the age of 22. A successful graduation, various short films and some festival awards later, Ozon gave his feature film debut with Sitcom in 1998. Since then, he has quickly become one of France's most acclaimed and successful directors.
With one new film every year, François Ozon is not only working rather rapidly but he is also multi-faceted and diversified. Films like Water Drops on Burning Rocks, Under the Sand, 8 Women, Swimming Pool, 5×2, and now, Time to Leave, show that Ozon can easily master the most diverse topics and genres, always keeping the balance between mainstream and art house while pleasing film enthusiasts, festival goers and a 'regular' audience at the same time.