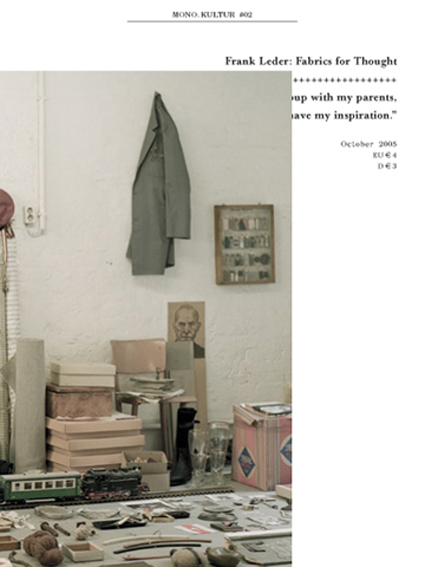 Frank Leder
Fabrics fo Thought
availability unknown, if interested please write an email
Frank Leder is an odd character. Seemingly easy to pinpoint, yet at second glance surprisingly off-centre—it is like with a joke when you realize you have just laughed at the wrong place. One can never be quite sure.
Frank Leder is a fashion designer. He set up his own label while still a student at Central St Martins in London and has been working slowly but steadily on creating his personal universe ever since. He relocated to Berlin in 2002, but is still much better known abroad than in his home country. Thrown in for better or for worse with the new generation of German fashion designers that seems to have suddenly appeared out of nowhere after decades of textile irrelevance, Frank Leder is the bearded guy at the edge of the picture, grinning maniacally.
Aesthetically, he might be the most German designer of them all, but then again, that might be misreading him entirely. Combining a wide-eyed curiosity with a taste for tradition and a healthy sense of humour, Frank Leder has created his very own niche in contemporary fashion. Whether staging a show for the blind or inviting buyers and press to view his new collection in his father's hometown in Bohemia, he has made it clear that he will play the game by his own rules in a way that he feels comfortable with. He designs sound, well-crafted clothes that function on a surface level but also invite you to take a closer look. There just might be a little wink of the eye sewn into the fabric somewhere. One can never be quite sure.