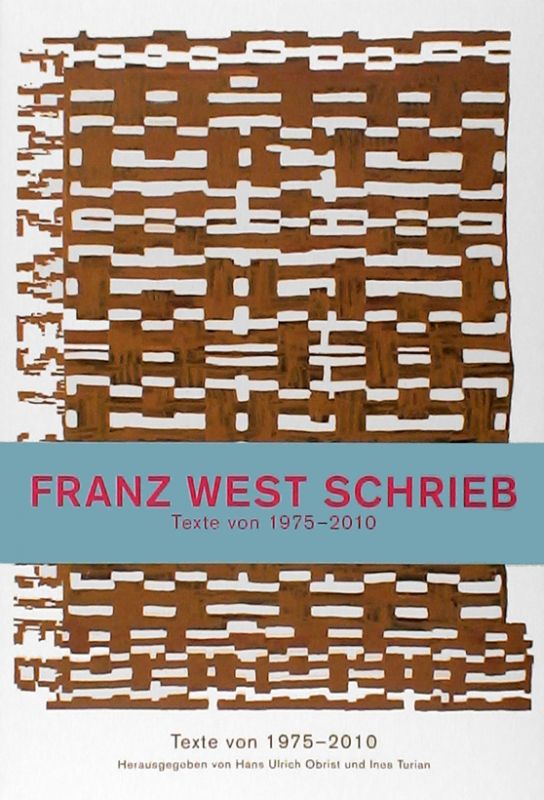 Article Number: 11885
Hard Cover,
German
, Thread Stiching, 247 Pages, 2011
Franz West Schrieb
Texte von 1975-2010.
€ 48.00
Nachdem 2005 die "Gesammelten Gespräche und Interviews" von Franz West erschienen, werden nun erstmals die von West sogenannten "Schriebe" zugänglich.
Seit 1977 schreibt Franz West Texte, Notizen, Anmerkungen und Aphorismen. Schreiben wird von ihm wie ein Arbeitsinstrument benutzt, das aus seinem Werk nicht wegzudenken ist. Immer wieder fügt er seinen Skulpturen eigene Texte bei, die den skulpturalen Ausdruck sprachlich fortsetzen, ohne zu illustrieren oder zu erklären. Wests eigene Beischriften faszinieren wie die Kryptogramme eines Sprachalchimisten. Dabei können die Titel, Beiworte und Texte für die Form der Skulptur sensibilisieren, den Betrachter aber auch in die Irre führen. Texte begleiten Franz Wests gesamtes Oeuvre. Entstanden sind bis heute mehr als 200, die hier als Faksimile und in Transkriptionen in ihrer Gesamtheit erstmals publiziert werden und die Beziehung zwischen Text und Skulptur im Werk von Franz West illustrieren.
Franz West has been writing texts, notes, remarks and aphorisms non-stop since 1977. He attaches these texts to his sculptures, continuing the sculptural expression linguistically without illustrating or explaining. In places the titles, epithets and texts can raise awareness of the sculpture's form, in others they can drive the viewer mad or fascinate like the cryptograms of a lingual alchemist. Texts accompany Franz West's complete oeuvre. Thus far more than 200 have been created and they are published here in their entirety for the first time in a newly edited form, as facsimiles and in transcriptions.
Sprache: Deutsch