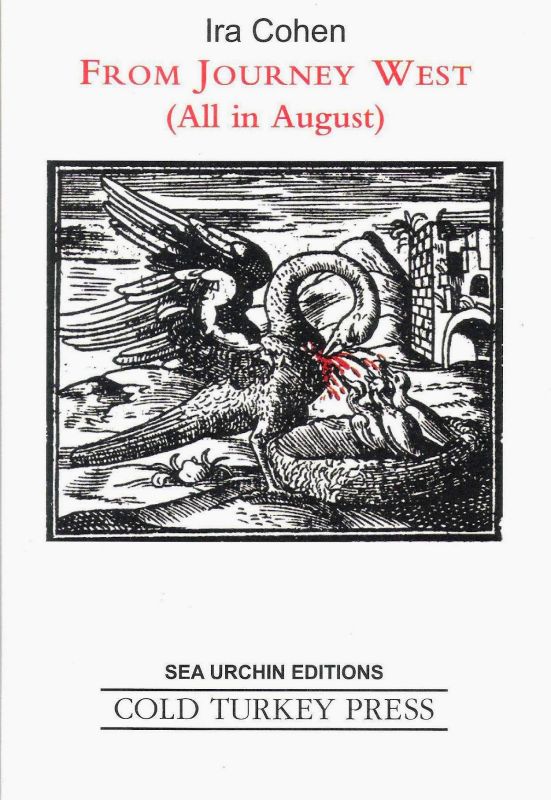 Article Number: 6784
Soft Cover,
English
, Thread Stiching, 18 Pages, 2013
From Journey West
(All in August)
The summer of 1975 was hot. A heatwave of eighteen consecutive days singed Western Europe and turned its capitals into seething cauldrons. Ira Cohen landed on the soft tarmac of Charles de Gaulle Airport, Paris, in August - his mind still filled with the opiate clouds over Kathmandu, where he had lived since 1972 - and stepped into a wildfire of events...
Fellow filmmaker Alejandro Jodorowsky was feverishly working on his adaptation of Frank Herbert's Dune, a megalomaniac project involving Salvador Dali, Pink Floyd, Orson Welles, Mick Jagger, H.R. Giger and many others, which was soon to collapse under its own weight like one of Dali's soft constructions. Ira's friend and fellow poet Brion Gysin was undergoing Cobalt-60 radiation therapy for lung cancer and appeared to be dying from either the disease or the treatment. And former Black Panthers leader Eldridge Cleaver – whose soul may have been on ice but whose brain was thoroughly fried – was spending his last months of exile negotiating his return to the US with the FBI and launching his cock-liberating pants as 'Eldridge de Paris'.

"From Journey West (All in August)" is published in a limited and numbered edition of 50 copies. Cohen's entry "All in August"and his poem to Brion Gysin 'Where the Heart Lies' have been included, along with a number of photographs of the period.