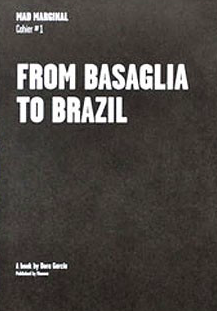 Article Number: 10577
Soft Cover,
English
, Thread Stiching, 212 Pages, 2010, ISBN 978-88-96501-17-7
From Basaglia to Brazil
€ 51.80
A book curated by conceptual Spanish artist Dora García. It is the achievement of a broader project inspired by the writings of Franco Basaglia, an Italian psychiatric who promoted the groundbreaking Law 180, making Italy one of the first countries to close down mental hospitals, and a pioneer in alternative mental health care.
These traditions of anti-psychiatry were carefully researched by García, and the investigation became an oppurtunity to look at forms of artistic expression that consciously decided to stay at the periphery of the mainstream.
Language: English