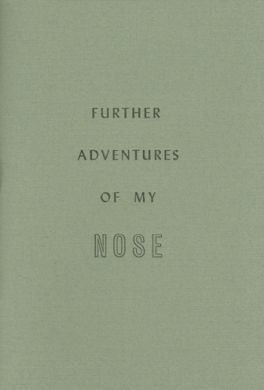 Article Number: 4399
Soft Cover,
English
, Staple Binding, 47 Pages, 2008, Ugly Duckling Presse
Further Adventures of my nose
availability unknown, if interested please write an email
A cycle of 24 poems, in which a melanoma-ridden nose embarks on a series of whimsical adventures.
Hand-bound with a new, hand-set letterpressed cover and color illustrations. Second Edition.
John Surowiecki is the inaugural recipient of the Poetry Foundation's Pegasus Award in Verse Drama for his play, My Nose and Me, based on his Further Adventures of My Nose, a chapbook published by UDP. Surowiecki is the author of four poetry collections: Flies (UDP, 2012), Watching Cartoons before Attending a Funeral (White Pine Press, 2003 White Pine Press Prize), The Hat City after Men Stopped Wearing Hats (The Word Works, 2006 Washington Prize), and Barney and Gienka (CW Press, 2010). He is also the author of six chapbooks, most recently, Mr. Z., Mrs. Z., J.Z., S.Z., put out by UDP in 2011. He has published widely and has won a number of awards, including the Pablo Neruda Award from Nimrod International Journal, a silver medal in the Sunken Garden Poetry Festival National Competition, and an arts fellowship from the State of Connecticut.
Quelle: Ugly Duckling Press)