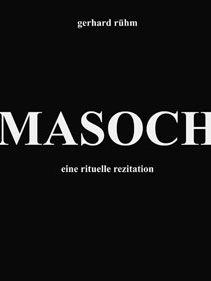 Article Number: 7491
CD,
German
, 16 Pages, 2014, Tochnit Aleph
Gerhard Rühm - Masoch
Eine Rituelle Rezitation
€ 17.60
First release of Gerhard Rühm's Radio-Play 'Masoch'.
Comes with 16 page booklet. A ritual recitation of Leopold von Sacher-Masoch and Ignatius von Loyola for one female and one male speaker, a chorus of speakers, and tape. "When the sexual pathologist Richard von Krafft-Ebing coined the term »masochism« in 1890, he was referring to the preferred literary topic and the lived obsessions of the Austrian writer Leopold von Sacher-Masoch. With the help of biographical highlights based on various documentary material, Gerhard Rühm has developed a type of anecdotal psychogram of Sacher-Masoch's personality. In this process, "a parallel counterpart crystallized almost inevitably: the figure of Ignatius von Loyola, for whom the obscure inner compulsion of total subjugation" Rühm says "manifested itself from seemingly contrary motivations–the eradication rather than stimulation of the flesh."
Gerhard Rühm (b.1930) is an Austrian writer, visual artist, composer, performer of experimental / phonetic poetry, radio and theatre author and publisher. He is considered one of the most important artists of experimental poetry. Gerhard Rühm was a founding member of the "Wiener Gruppe" (1954-1960) with Friedrich Achleitner, H.C. Artmann, Konrad Bayer, and Oswald Wiener. Given the radicalism of their writing, works of art, and happenings, the group is considered to be the first avantgarde movement in Austria, thus contributing decisively to the origin of the Vienna Actionism.
Language: German