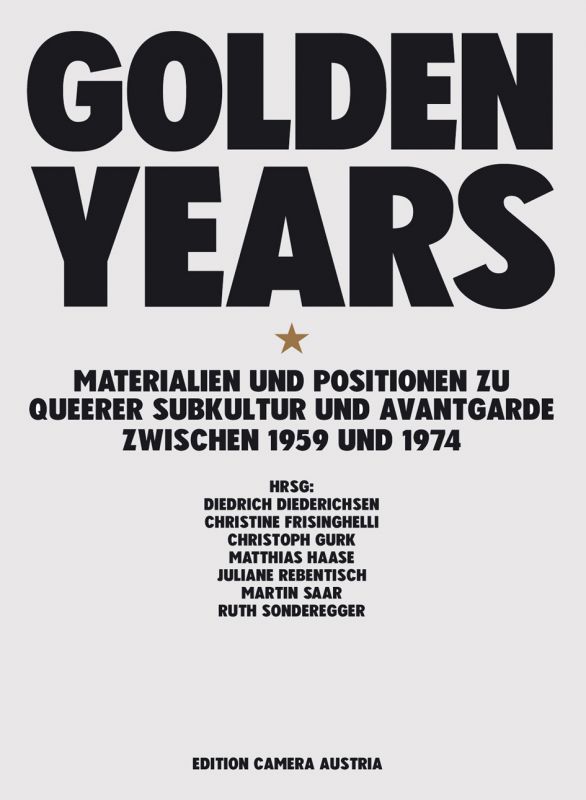 Article Number: 10286
Soft Cover,
German
, Thread Stitching, 384 Pages, 2006, Camera Austria
Golden Years
Materialien und Positionen zu queerer Subkultur und Avantarde zwischen 1959 und 1974
availability unknown, if interested please write an email
Im Rahmen des "steirischen herbst" 1999 unter der Intendanz von Christine Frisinghelli und im Rahmen eines von Jörg Schlick und Christoph Gurk initiierten größeren Projektes unter dem Titel "REMAKE/RE-MODEL.
Secret Histories of Art, Pop, Life and The Avantgarde" spürte eine Gruppe von KulturwissenschaftlerInnen, PhilosophInnen und AutorInnen diesen "Geheimgeschichten" von Subkulturen nach (Diedrich Diederichsen, Matthias Haase, Juliane Rebentisch, Martin Saar, Ruth Sonderegger). In einer Installation samt eigens produziertem historischen Film von Mike Kelley, einer Retrospektive der frisch restaurierten Filme von Jack Smith, Performances von Terre Thaemlitz und Ultra-red und vor allem einem Symposium mit u.a. Douglas Crimp, Jerry Tartaglia, Gertrud Koch und den beteiligten KünstlerInnen wurde diesen Fragen nachgegangen.
Der rekonstruktive Teil des Symposiums und seine Dokumentation findet sich nun in diesem unter dem Titel GOLDEN YEARS herausgegebenen Band, der seine Aktualität nicht zuletzt aus auch nachfolgend entstandenen Beiträgen und durch die Ergänzung mit wichtigem historischen Quellenmaterial erhält.
Sprache: Deutsch