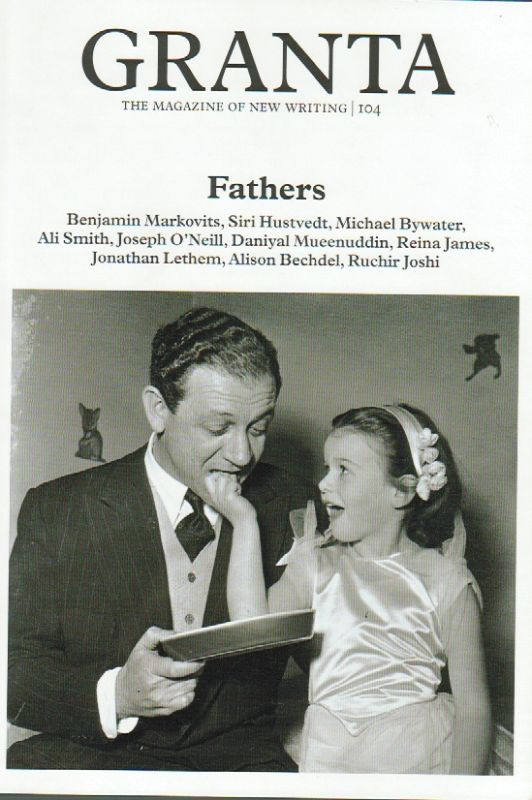 Granta. The magazine of the new writing, 104
Fathers
availability unknown, if interested please write an email
Four years after "Mothers", "Granta 104" sets its sights on fathers. Look out for Hisham Matar on his father, who was kidnapped while living in Egypt and imprisoned by Muammar al-Gaddafi in Libya; Helen Epstein on 'fatherhood' within the prisons of San Francisco; a dictator who has styled himself as the Father of the Nation; Rawi Hage on Beirut, as seen through his father's eyes; becoming a father again in middle age; and, Junot Diaz on Latin American 'Big Men'. It also features writers, including Margaret Atwood and Ali Smith, on their favourite pictures of their fathers.
Granta magazine was founded in 1889 by students at Cambridge University as The Granta, a periodical of student politics, student badinage and student literary enterprise, named after the river that runs through the town. In this original incarnation it had a long and distinguished history, publishing the early work of many writers who later became well known, including A. A. Milne, Michael Frayn, Stevie Smith, Ted Hughes and Sylvia Plath. During the 1970s, it ran into trouble – dwindling money, mounting apathy – from which it was rescued by a small group of postgraduates who successfully and surprisingly relaunched it as a magazine of new writing, with both writers and their audience drawn from the world beyond Cambridge.
Since 1979, the year of its rebirth, Granta has published many of the world's finest writers tackling some of the world's most important subjects, from intimate human experiences to the large public and political events that have shaped our lives. Its contributors have included Martin Amis, Julian Barnes, Saul Bellow, Peter Carey, Raymond Carver, Angela Carter, Bruce Chatwin, James Fenton, Richard Ford, Martha Gellhorn, Nadine Gordimer, Milan Kundera, Doris Lessing, Ian McEwan, Gabriel Garcia Marquez, Jayne Anne Phillips, Salman Rushdie, George Steiner, Graham Swift, Paul Theroux, Edmund White, Jeanette Winterson, Tobias Wolff. Every issue since 1979 is still in print. In the pages of Granta, readers met for the first time the narrative prose of writers such as Bill Bryson, Romesh Gunesekera, Blake Morrison, Arundhati Roy and Zadie Smith; and have encountered events and topics as diverse as the fall of Saigon, the mythology of the Titanic, adultery, psychotherapy and Chinese cricket fighting.
Granta does not have a political or literary manifesto, but it does have a belief in the power and urgency of the story, both in fiction and non-fiction, and the story's supreme ability to describe, illuminate and make real. As the Observer wrote of Granta: 'In its blend of memoirs and photojournalism, and in its championing of contemporary realist fiction, Granta has its face pressed firmly against the window, determined to witness the world.'
Language: English