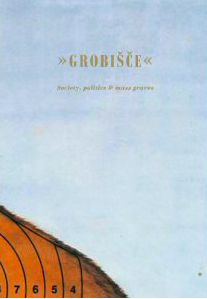 Article Number: 1378
Soft Cover,
English
, Glue Binding, 80 Pages, 2008, D O W N
Grobisce
Society, Politics and Mass Graves
availability unknown, if interested please write an email
Grobisce is a book about the 580 mass graves in Slovenia. How did the killings happen, and why have only 1% of the graves been excavated?
Dozens of hours of original interviews and never seen before archive translations have been edited and sequenced into a series of conversations that tackle this taboo subject, which still holds a massive influence over Slovene politics and society. The book is lovingly printed on coated and uncoated paper, open-spine bound and has a foil embossed dust jacket. It is filled with luscious portrait and documentary photography and is one of the most intriguing and harrowing books that you will read this year.
Language: English