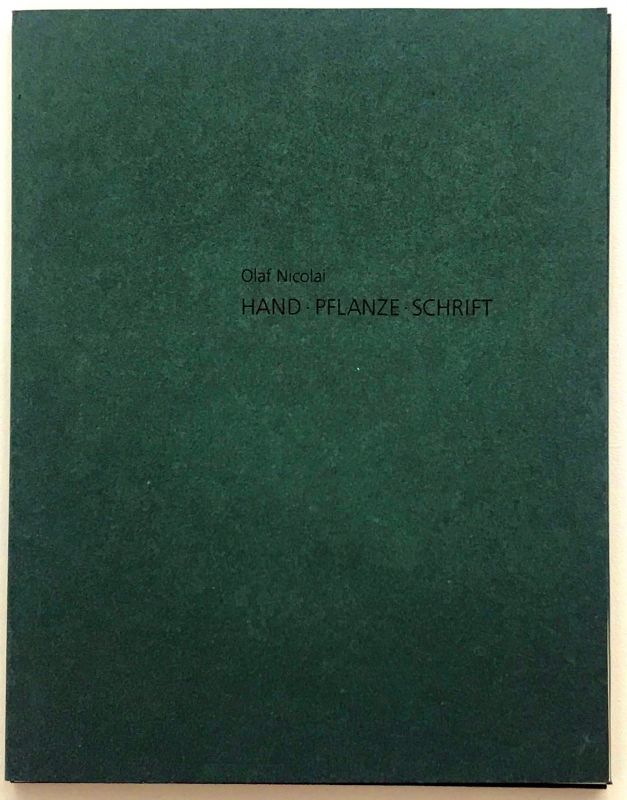 Article Number: 11986
Hard Cover,
German
, Thread Stitching, 36 Pages, 1994
Hand . Pflanzen . Schrift
availability unknown, if interested please write an email
Hand Pflanze Schrift erscheint anlässlich der Ausstellung "Sammlers Blick"
im Lindenauer Museum und erscheint als Ergänzung zum Buch Sammlers Blick. Sie präsentiert acht Paar eingekippte Fotos, die ein Detail bemalter Hände mit einem Fotogramm von Blättern kontrastieren. Die Fotogramme bestehen aus Blättern, die im Museumspark gefunden wurden (entworfen von Lenné), und die Handdetails stammen aus Gemälden der frühen Renaissance in der Sammlung des Museums.Published on the occasion of the exhibition, "Sammlers Blick" at the Lindenau Museum and issued as a supplement to the book Sammlers Blick, Hand Pflanze Schrift presents eight pairs of tipped-in photos contrasting a detail of painted hands with a photogram of leaves. The photograms are made from leaves found in the museum's park (designed by Lenné) and the hand details are taken from early Renaissance paintings in the museum's collection.