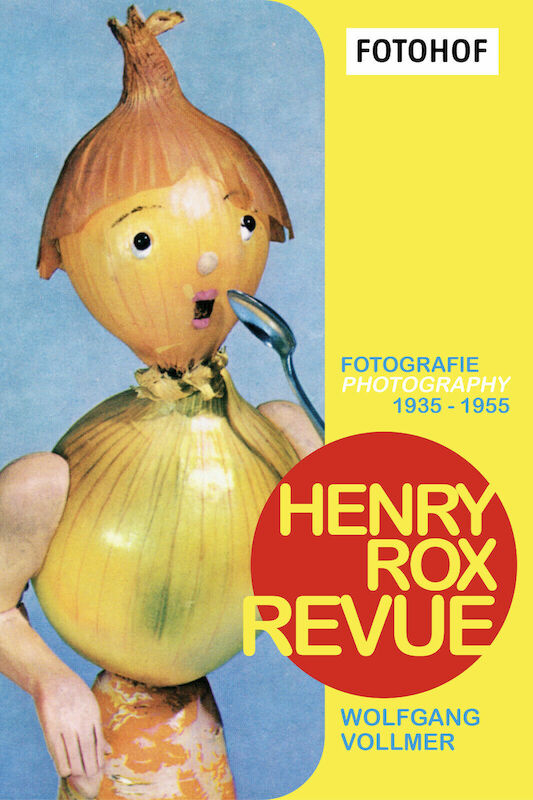 Henry Rox Revue. Fotografie / Photography 1935-1955
€ 29.00
The Henry Rox Revue combines artistic masterpieces between acrobatics, music and dance with the bizarre things of everyday life - the impossible is captured here in unique photographs. Henry Rox`s photographic world of images is a crazy revue with subtle humor and witty charm. She plays with dressing up and parodying and lives from simple and equally imaginative arrangements and productions in which he casts various roles with various fruits and vegetables as the main actor.
The few documents, photographs and references to Henry Rox's work are distributed across many archives and collections in America and Europe. There has never been a comprehensive publication or a detailed classification of his work - Henry Rox is a forgotten artist from the mid-20th century. With the present book developed by Wolfgang Vollmer, the surprising rediscovery of an impressive artistic position succeeds. Wolfgang Vollmer, * 1952 Marburg, Germany. Lives and works in Cologne.
Die Henry Rox Revue verbindet artistische Meisterleistungen zwischen Akrobatik, Musik und Tanz mit Skurrilitäten des Alltags - Unmögliches ist hier in einmaligen Fotografien festgehalten. Henry Rox` fotografische Bildwelt ist eine verrückte Revue mit hintergründigem Witz und launigem Charme. Sie spielt mit Verkleiden und Parodieren und lebt von einfachen wie gleichermaßen phantasievollen Arrangements und Inszenierungen, in denen er unterschiedlichste Rollen mit diversen Früchten und Gemüsen als Hauptdarsteller besetzt. Die wenigen Dokumente, Fotografien und Hinweise auf Henry Rox` Arbeiten sind auf viele Archive und Sammlungen in Amerika und Europa verteilt. Eine umfassende Veröffentlichung, eine ausführliche Einordnung seiner Arbeiten hat es bisher nicht gegeben - Henry Rox ist ein vergessener Künstler aus der Mitte des 20. Jahrhunderts. Mit dem vorliegenden von Wolfgang Vollmer erabreiteten Buch gelingt die überraschende Wiederentdeckung einer beeindruckenden künstlerischen Position. Wolfgang Vollmer, *1952 Marburg, Deutschland. Lebt und arbeitet in Köln.