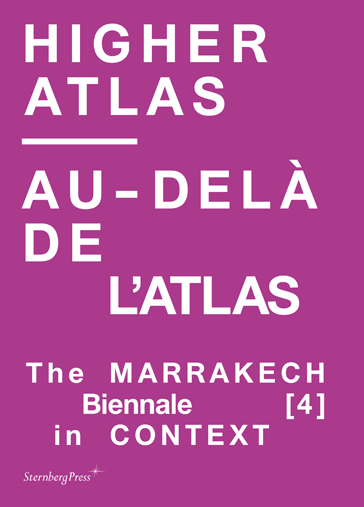 Higher Atlas/Au-delà de l'Atlas
The Marrakech Biennale [4] in Context
€ 22.90
Higher Atlas: The Marrakech Biennale in Context [4] brings together a collection of texts that dilates on the social and historical context, history, and contemporary reality of exhibition making in North Africa and in particular, Morocco.
For Chan and Samman, the exhibition is the primary locus of artistic information; firsthand experience of the work is the best way to understand it. The catalogue, published in English and French, with an Arabic online edition to follow, is intended to provide a context for the exhibition within preexisting and future frameworks for understanding some of the considerations that went into this edition of the Marrakech Biennale.

With texts by Carson Chan, Anthony Gardner, Kerryn Greenberg, Gideon Lewis-Kraus, Beral Madra, Simon Njami, Katarzyna Pieprzak, Alice Planel, Holiday Powers, Véronique Rieffel, Nadim Samman, and Jessica Winegar.
Language: English and French