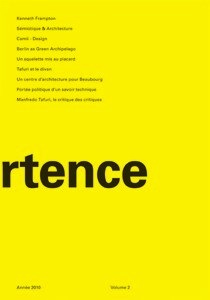 Article Number: 23
Hard Cover,
English
, Staple Binding, 210 Pages, 2009
Hortence
Les cahiers d'hortence (Volume 1)
availability unknown, if interested please write an email
The journal « Les Cahiers d'hortence » is the result of a research and teaching laboratory based in the Institut Supérieur d'Architecture La Cambre in Brussels.
Ce premier volume des cahiers d'hortence propose de « reconsidérer les années 1970 ». L'hypothèse implicite à l'origine de ce premier opus repose entre autres, d'une part, sur l'intuition d'un retour après une longue période d'absence, de questions soulevées durant cette décennie ; d'autre part, sur la méconnaissance généralisée des débats et de la production de l'époque, ternis par la condamnation a priori d'une production obscurcie par certaines attitudes dont la période actuelle semble encore subir les conséquences.
The publication, whose first issue goes back to Spring 2009, intends to reveal to a public readership the research on the history, criticism and theory of architecture, as carried out within the laboratory. This first volume proposes to « reconsider the 1970ies ». The implicit assumption at the origin of this publication rests both on the intuition of a return - after a long period of absence - of questions raised during the 1970ies and on an important lack of knowledge of the debates and production of that time. In addition, we observe how the decade of the 1970ies is marked by a preconceived judgment of an architectural production obscured by attitudes that still seem to influence our present debate. In order to elucidate these questions, the journal intends to associate essays and architectural projects.« Les Cahiers d'hortence » is a production of hortence. Associating teachers and students of the History, Theory and Criticism Laboratory of the ISACF La Cambre, hortence's main objective is to develop "productions" of the laboratory, organizing seminars, conferences and exhibitions and to publish the work undertaken within those.*
Language: English / French