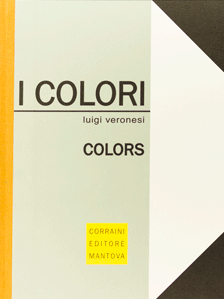 Article Number: 7336
Hard Cover,
English
, Thread Stiching, 32 Pages, 2007
Published for the first time in 1945, in the middle of Veronesi's researches about abstract cinema and photography, the quality of its graphics and teaching aspects remains undimmed.
In the first part of the book the three primary colours and their complementary are associated to everyday objects, while the second part, more suitable to Veronesi's "abstract rationalism", is dedicated to overlapping colours, and creates pages that have become real painting masterpieces. Luigi Veronesi (Milan, 1908-1998) always thought art as an instrument that involves all the aspects of the aesthetic experience, and investigated its relationship with the age of mechanization. Famous for his colour transpositions of music scores, he was a member of the MAC (Movement for Concrete Art) and one of the most "european" among Italian abstract painters. He also was one of the first authors to use photography in childrens' books.
Language: English / Italian