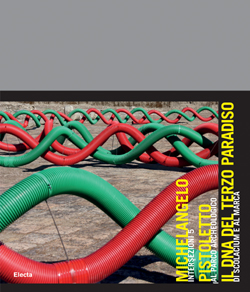 Article Number: 4985
Hard Cover,
English
, Thread Stiching, 256 Pages, 2010,
Il DNA del Terzo Paradiso
Intersezioni 5 al Parco Archeologico di Scolacium e al MARCA
(ital./engl.)
DNA, which contains the outline of our heredity and indicates the path of our tomorrow, finds a a concrete representation in Michelangelo Pistoletto's new project, The DNA of the Third Paradise. The master of ARte Povera, celebrated for his Mirror Pictures which subverted the visual system, is now proposing the genetic transcirption of art. The setting is the extraordinary Roman city of Minervia Scolacium, a few kilometers from Catanzaro, which plays host to Intersezioni, a now well-established event organized by Alberto Fiz, where the future of art is brought face to face with its past, giving rise to an unpredictable process of transformation.
(Quelle: Buch)