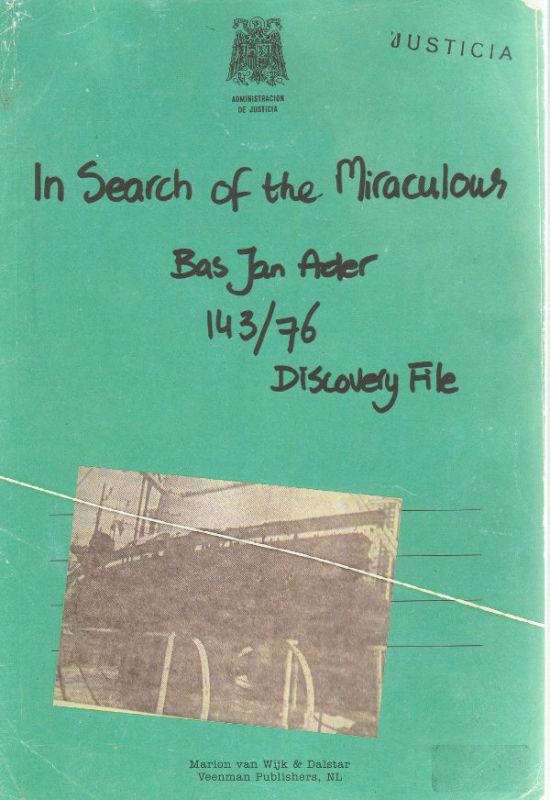 In Search of the Miraculous Bas Jan Ader. Discovery File 143/76
In this volume, Marion van Wijk and Koos Dalstra, who spent 10 years investigating the unsolved mystery of Bas Jan Ader's death, reproduce the entire police report in facsimile.
Bas Jan Ader (*1942 in Winschoten, the Netherlands, lost at sea in 1975 between Cape Cod, Massachusetts and Ireland) was a Dutch conceptual artist, performance artist, photographer and filmmaker.
When Bas Jan Ader's boat, "Ocean Wave," was found unmanned and partially submerged 150 miles off the coast of Ireland by a Spanish fishing vessel in 1976, it was taken to La Coruña for investigation. Days later, the boat was stolen and the cult of Ader, whose body was never recovered, and who was thought by many to have staged this incident, was truly cemented.
Van Wijk and Dalstra also include many pages of eerie written documentation and transcriptions of interviews they conducted during their decade of intensive sleuthing: "The report has 74 pages. It begins on April 27, 1976 and ends on February 1, 1977. It relates the history of the "Ocean Wave" from the moment Don Alferan speaks about his discovery to the authorities until nine months later, when the case is closed. The reason: the authorities cannot find the stolen boat that disappeared from San Diego harbor in Coruña between May 18 and June 7, 1976."