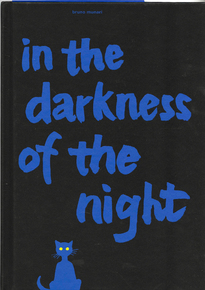 In the Darkness of the Night
€ 35.00
First published in Italy in 1956, Bruno Munari's »In the Darkness of the Night« tells the tale of an interconnected, intimate yet expansive journey across three settings—in the darkness, through a meadow, and into a mysterious cave—through a spellbinding combination of paper stocks, transparencies, cutouts, and simple but lively characters. This timeless artist's book, available in a new English edition, is a must-have for Munari fans, designers, bibliophiles, and lovers of exceptional book design.
"Originally published in Italy in 1956 under the title Nella notte buia, this little masterpiece uses a full arsenal of book arts techniques to convey space and time. Rather than relying exclusively on text, author Bruno Munari relies instead on symphony of words and images to convey the story. Thick paper cutouts give way to fragile transparent sheets, making for a wholly unexpected and holistic reading experience. Perfect for collectors and paper engineers alike." —Literary Features Syndicate
"...A transporting artist's book by the great Bruno Munari. The tome was first published in 1956 and is coming out again in a new facsimile edition from Princeton Architectural Press, which took care to reproduce the book with all its quirks: holes in certain pages, translucent sheets between, little flaps that open and close." —ARTnews
About the Author: Bruno Munari (1907–1998) was one of the most ground-breaking and influential designers of the twentieth century. His seventy-year career stretched across the fields of graphic, book, and industrial design; painting, sculpture, film, and photography; literature, poetry, and more, prompting Picasso to call him "the Leonardo of our time."