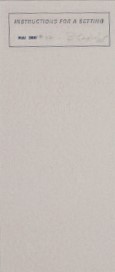 Article Number: 247
Hard Cover,
German
, Staple Binding, 7 Pages, 2009
INSTRUCTIONS FOR A SETTING
This work was realised in the context of a performance festival in Montréal (Canada) 2009.
The question about forms of contemporary performance in mind I engross a series of on-going observations of public sites. From these observations I developed a poster displaying instructions for acting and naming the selected setting. The poster was exposed in the exhibition space, renewed by the latest version day after day. 10 copies of the current poster were available as folded maps each day.
The layout depends in size and structure on the map of the public transportation company in Montréal. The indicated locations correlate with the positions on this map.
The edition is produced on demand but no more than 50.
Language: English / German