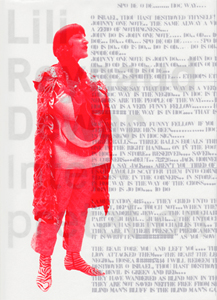 Article Number: 9022
Soft Cover,
English
, Thread Stitching, 128 Pages, 2013
Interpretation
availability unknown, if interested please write an email
This Book was published on the occation of the exhibition "Interpretation" in the Kunsthalle Basel 2010.
The book Interpretation can be considered as the last part of a complex project that wasn't organized programmatically but rather, improvised through a piecemeal approach to art and research as such. The publication unfolds this elaboration through a text by the artist and documentation of her working process; it also gathers multiple visions of Sun Ra, from photographs taken by Philippe Gras at the concert Sun Ra and his Arkestra gave in 1971 at the Fondation Maeght, to texts by Diedrich Diederichsen, Anthony Elms and J. Griffith Rollefson on his music, his theatrics and his politics. For a book is less a matter of pinning down the definite truth of a fact, or of one's fiction, but an exercise in opening a multiplicity of interpretations.
Language: English/French