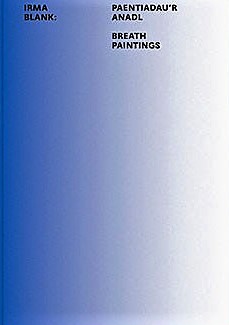 Article Number: 9056
Soft Cover,
English
, Thread Stiching, 64 Pages, 2015
Irma Blank: Paentiadau'r Anadl / Breath Paintings
This book is published in conjunction with the exhibition: Irma Blank: Breath Paintings at MOSTYN, Wales UK (15 November–1 March 2015)
This book focuses on a selection of works from the series Radical Writings produced in the 1980s and 1990s. In these works the artist links her breathing to the gesture of writing, repeating a single action: drawing a line corresponding to one single breath. The striking blue paintings on canvas open up a discussion on language and signs, and on the authority of the written word that is constantly challenged as a vehicle of power. Text by Alfredo Cramerotti and conversations by Alfredo Cramerotti with Adam Carr and Luca Lo Pinto with Irma Blank.
Language: English/Welsh