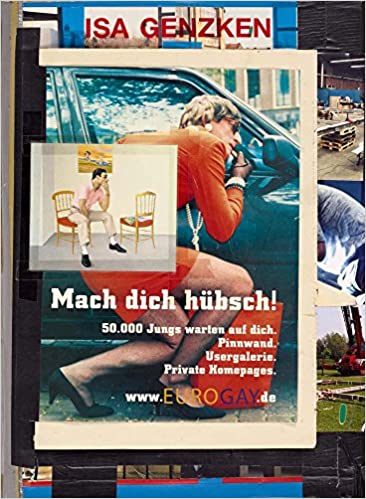 Isa Genzken: Mach dich hübsch!
€ 88.70
Created in Berlin around 15 years ago, this large-format collage book by Isa Genzken is both a personal diary and artistic manifesto. In it are portraits of the artist and her friends;
clippings from advertisements and glamour magazines; male pinups; illustrations of fences and grates from animal enclosures; mostly bare trees, bushes and forests; columns, faces and strange details from the artist's work and installations; postcards of historical paintings and handwritten notes. Genzken uses brown sticky tape and silver textured textile tape; black, blue, red and vibrant green neon papers give the book a dramatic structure, creating windows and doors with views in and out. The format of the pages gradually becomes larger throughout the course of the book, giving it an astounding physicality.
Featured spread is reproduced from Mach dich hübsch!, Isa Genzken's powerful, super-graphic 12x16-inch artist's book—a facsimile scrapbook filled with playful, layered collages in which the artist reflects on life in the metropolis, media culture, sexual identity and her own biography. Mach dich hübsch! is the Berlin counterpart to Genzken's highly sought-after I Love New York, Crazy City, also published as a facsimile in 2006. This book, and the corresponding boxed, signed and numbered limited edition, are available at our four-day pop-up bookstore at Frieze New York through Sunday. continue to blog