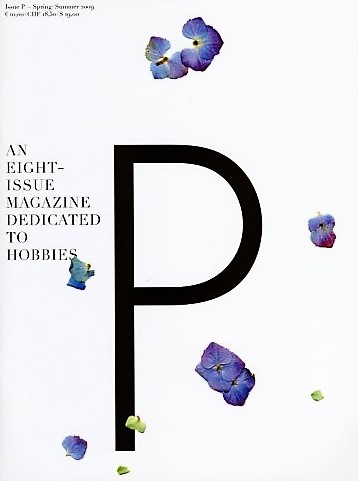 Article Number: 323
Soft Cover,
English
, Staple Binding, 80 Pages, 2009
Issue P Spring/Summer 2009
An eight issue magazine dedicated to hobbies
availability unknown, if interested please write an email
Provence will provide you with violet, red, orange, yellow, green and pink, sunshine, blue sky, outdoor easels, ewer, fountain pens, the sound of the sea, edging shears, sailing shoes, lavender, picnics, wine, olives, brushes and bushes ... Provence is an eight–issue magazine dedicated to hobbies and delightful beauty.
The concept of free time was invented along with industrialization—now it seems we are moving towards doing away with it. "Turn your hobby into a career" is well known in itself as the neo-liberal slogan. In this regard, the Post-Fordist working condition and the world of contemporary art seem to go hand-in-hand, perfectly. We are constantly at work: everywhere and anytime.

This is the first issue of PROVENCE. It brings together a diversity of contributions and diverse contributors. In good company: a reprint of Richard Prince's Menthol Pictures butts up against Folkways Records as collected by Peter M. Kersten, and Andrea Legiehn's essay on the movie American Gigolo works it alongside Merlin Carpenter's honest picture collection. We started thinking about hobbies and realized there is such a captivating array—somehow titillating. Soft and mellow like a calm ocean wave … We really did spend quite a bit of our free time working on these papers in the small office at 50 Rue Gioffredo. Sipping on a Cuba Libre sounds pretty heavenly right now. Don't get us wrong—we put a whole lot of passion and effort into this issue. Our contributors, we love them! One day maybe we can all share a nice dip in some pool together. For now we're so happy to share this magazine with you.

Language: English