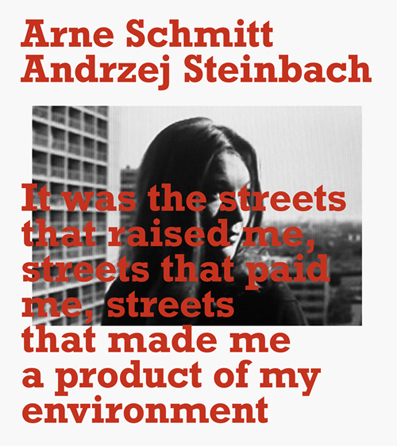 It was the streets? (1. Auflage)
Die Straße ist das urbane Feld, in dem Musik, Skateboard, Graffiti und politische Aktionen aufeinandertreffen und in dem die beiden jungen Leipziger Fotografen Arne Schmitt und Andrzej Steinbach ihre Motive finden.
Auf gemeinsamen Streifzügen durch Leipzig entstand 2009 ein Bildfundus, der ihre visuelle Umgebung beschreibt: Häuser, Straßen, Zeichen, Menschen, die sie prägen. Das Buch kombiniert die selbst aufgenommenen Fotos – Schwarzweiß und Kleinbild - mit Found-Footage-Material wie Platten-und CD-Cover, Buchillustrationen, Fotos aus Zeitschriften, Bilder aus dem Internet und vom Fernseher abfotografierte Stills. Beide Elemente – die eigenen Bilder und die gefundenen – sind zu einem fiktiven Skript montiert, in dem u.a. Leipzig 2009 mit New York City der späten 1980er zusammentrifft. Der Titel der Arbeit "It was the streets that raised me, streets that paid me, streets that made me a product of my environment" entstammt einem Hip-Hop-Song, der das Motiv der beiden Fotografen wiedergibt, eine Art innerer "Soundtrack", der gleichzeitig die Form des Buches bestimmt: Eine Plattenhülle, in dem alle Bilder versammelt sind, auf der Rückseite – ähnlich wie die Liner Notes in der Musik – sind die Titel der Fotos abgedruckt (...) (Quelle: Verlag).