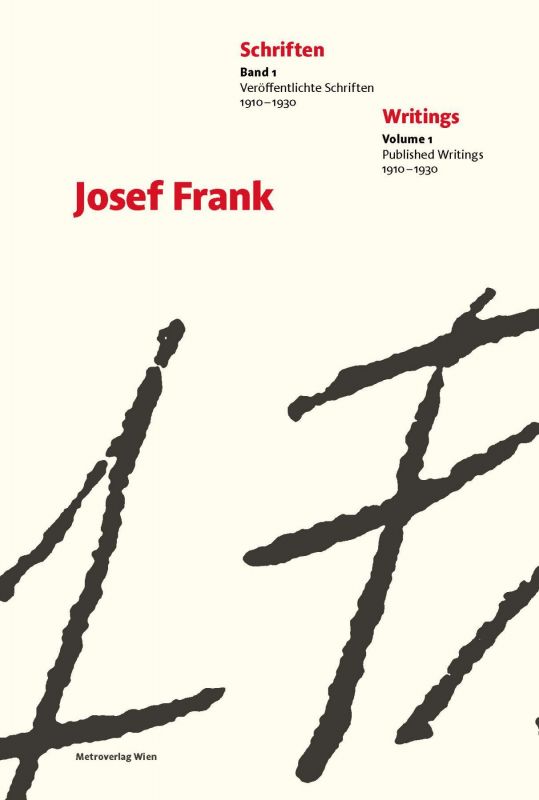 Article Number: 5649
Hard Cover,
German
, Thread Stiching, 884 Pages, 2012, Peter Duniecki Design
Josef Frank. Schriften/ Writings
Veröffentliche Schriften 1910-1930/ 1931-1965
Dieses zweibändige Werk vereint alle veröffentlichten Schriften von Frank und macht sie zum ersten Mal zusammen mit vielen der ursprünglichen Illustrationen in einer Gesamtausgabe zugänglich.
Mehr als fünf Jahrzehnte, von den 1910er Jahren bis zum Beginn der 1960er Jahre, war Josef Frank einer der Hauptvertreter der Moderne und zugleich einer ihrer schärfsten Kritiker. In seinen vielen Aufsätzen und Artikeln wie in seinem Buch Architektur als Symbol bemühte sich Frank, die Bedeutungsebenen – und die Fehler – der Moderne, die ihr zugrunde liegenden Annahmen und ihre seiner Ansicht nach oftmals fehlgeleiteten Umsetzungen offenzulegen. Vor allem bemühte er sich, für die moderne Gestaltung etwas von der Freiheit zurückzufordern, die sie durch ihre Dogmatisierung verloren hatte.
This two-volume work reprints all of Frank's published writings, making the great majority of them available in English for the first time. The original, mostly German-language texts are also presented here, as are many of the illustrations that accompanied them.
For more than five decades, from the 1910s to the early 1960s, the Viennese architect Josef Frank was one of the leading advocates of the new modern aesthetic and one of its most strident and vocal critics. In his many essays and his book, Architektur als Symbol, Frank sought to expose the meanings—and the failures—of modernism, to lay bare its underlying assumptions and what were, in his view, its sometimes misdirected applications. Above all, he sought to reclaim for modern design some of the freedom it had lost as it was codified.
by Metroverlag