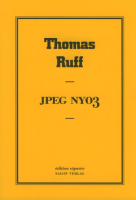 Article Number: 684
Hard Cover,
German
, Staple Binding, 2005,
Salon Verlag
, ISBN 9783932189364
JPEG NYO3
In the new series of JPEG the artist experiments with the compression procedure of the same name for digital pictures, which is able to reduce their file extent. The irreparable information loss here taking place falls in usual practice because of the small size of the pictures adjusted usually for the screen hardly important. Thomas Ruff is however interested in this effect.
o.A.