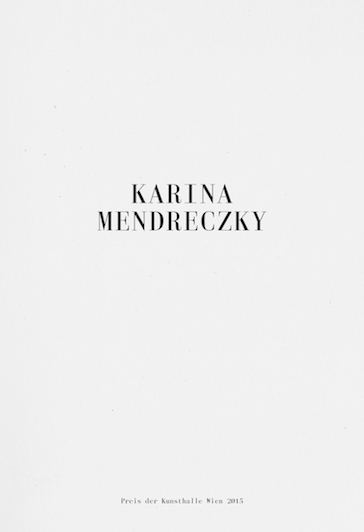 Article Number: 8829
Soft Cover,
German
, Thread Stiching, 46 Pages, 2016,
Sternberg Press
, ISBN 9783956792274
Karina Mendreczky
Preis der Kunsthalle Wien 2015
Karina Mendreczky is the joint recipient of the 2015 Kunsthalle Wien Prize. Along with a color insert, this publication includes an essay on Mendreczky's work by Bärbel Vischer, a conversation between the artist, Lucas Gehrmann, and Nicolaus Schafhausen, as well as forewords by Gerald Bast and Schafhausen.
With delicate lyricism, Karina Mendreczky creates fictional landscapes using light and shadow. As a recipient of the 2015 Kunsthalle Wien Prize, she created the installation Thin Dream at Kunsthalle Wien Karlsplatz. Silhouettes of acrylic trees, whose details were hand-carved with an etching needle, were projected onto the back wall of the gallery to create the impression of actual large-format drawings. Mendreczky draws on the techniques of graphic printing and stage design to remind us that nature cannot be reproduced, although it frequently serves as a projection for our desires. At the same time, Thin Dream reflects on Mendreczky's constant travels between Hungary, where she was born, and Austria, questioning the idea of a fixed sense of place.
Language: German/English