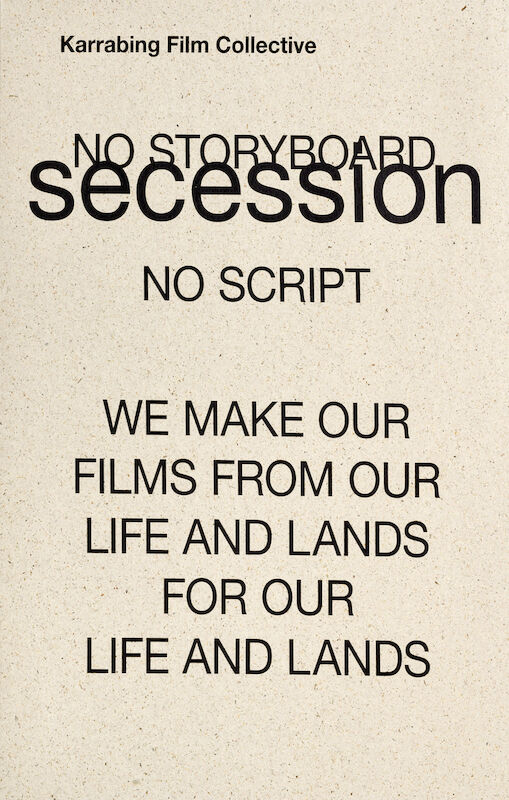 karrabing film collective. no storyboard, no script
€ 18.00
Intervention by the artists: Karrabing Film Collective has created a limited-edition series of four cards for the publication, one of which is enclosed with each copy. The faces of the cards show image-text collages in Karrabing's characteristic technique of layering and
superimposition. Historic photographs and maps, video stills and texts blend into one another, speaking to historic and present-day injustices, to colonial power relations and the quest for self-determination and independence. The messages could not be any more explicit: "They pretend not to see us," "white people only want what is valuable in their eyes," "then they tried to massacre us so we wouldn't be there," "another history still exists in the sands." Stamped on the reverse of the cards is a creative manifesto that outlines the group's practice and approach to filmmaking: NO STORYBOARD NO SCRIPT WE MAKE OUR FILMS FROM OUR LIFE AND LANDS FOR OUR LIFE AND LANDS.
In the book accompanying Karrabing Film Collective's exhibition They pretending not to see us..., some of the Indigenous Australian group's around thirty members provide insight into the genesis and context of their most recent film, Night Fishing with Ancestors. A collage of images and writings introduces us to fish traps built by the ancestors, the bonds between people and their land, and their efforts—which include the group's films—to pass down their traditions and myths to their children. An extensive essay by the anthropologist, filmmaker, and activist Massimiliano Mollona discusses Karrabing Film Collective's work with reference to Third Cinema and positions it within Indigenous or Fourth Cinema, which, as an instrument of decolonization, points the way toward "unlearning imperialism."
The Karrabing Film Collective is a grassroots Indigenous based media group. Filmmaking pro­vides a means of self­organization and social analysis for the Karrabing. Screenings and publications allow the Karrabing to develop local artistic languages and forms and allow audiences to understand new forms of collective Indigenous agency. Their medium is a form of survivance—a refusal to relinquish their country and a means of investigating contemporary social conditions of inequality. The films represent their lives, create bonds with their land, and intervene in global images of Indigeneity.
Karrabing consists of over 30 members, all but one Indigenous stakeholders for the land, with ages from new­born to elder. The Karrabing Indigenous Corporation seeks to integrate their parents, and grandparents' ways of life into their contemporary struggles to educate their children, create economically sustainable cultural and environmental businesses, and support their homeland centers.
Massimiliano Mollona is an anthropologist and filmmaker based at the Department of the Arts (DAR) at the University of Bologna and specializing in economic and political anthropology and the anthropology of art. His projects focus on extractivism, class and labor struggles, militant cinema, and art/commons. He is one of the founding members of the Institute of Radical Imagination (IRI) and of the Laboratory for the Urban Commons (Athens).