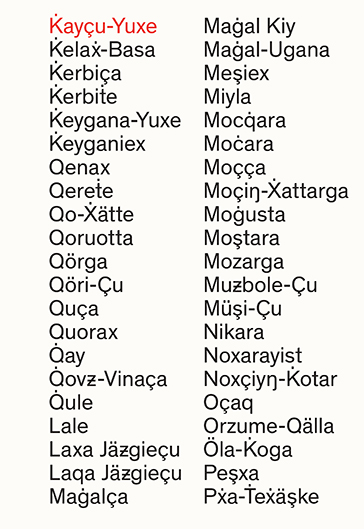 Keicheyuhea
€ 29.60
The words on the cover of Aslan Gaisumov's first monograph are names of places no longer inhabited.
The tens of thousands of people who used to live in the mountainous Galain-Chaz district of southern Chechnya were deported by the Soviet authorities in the winter of 1944, wrongly accused of having collaborated with Nazi Germany. One of these words, Kayçu-Yuxe or Keicheyuhea, names the birthplace of Zayanu Khasueva, the artist's maternal grandmother. It is also the title of his film from 2017, in which Khasueva returns to the site of her ancestral village for the first time in seventy-three years.
The monograph features Gaisumov's recent work (including photographs of the previous settlements of the Galain-Chaz district that have not been shown elsewhere) and contains new essays by the researchers Aleida Assmann, Georgi Derluguian and Madina Tlostanova and the curator Anders Kreuger.
Language: English