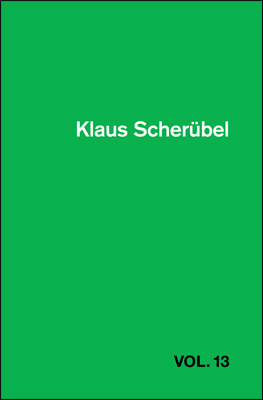 Article Number: 610
Soft Cover,
English
, Glue Binding, 2011, Einzelkünstler
€ 28.00
(English, French, German) Following a series of monographic exhibitions held in Europe and North America between 2008 and 2011, this publication offers a first survey of the multi-facetted work of the Austrian/Canadian artist Klaus Scherübel.
Rooted in the tradition of Conceptual art, Scherübel's practice defies facile categorization. His work involves a systematic investigation of artistic activity questioning the limits that separate the function of the artist from those of historian, curator, editor, sponsor or spectator. Using a variety of aesthetic strategies, his undertakings reconsider works, concepts and genres issuing from the visual arts, literature, cinema and TV. VOL. 13 documents and analyses some of his best known projects of the last twenty years, including the series Untitled (The Artist at Work) as well as his book projects dedicated to the literary and conceptual enterprises of French poet Stéphane Mallarmé and fictional writer Jack Torrance, known from Stanley Kubrick's modern horror drama The Shining. It includes essays by Jean-François Chevrier and Patrice Loubier as well as a conversation between Helmut Draxler and the artist. Scherübel has personally taken charge of the conception of this book—in the process giving us a publication that is both about his self-reflexive artistic approach and an extension of it.