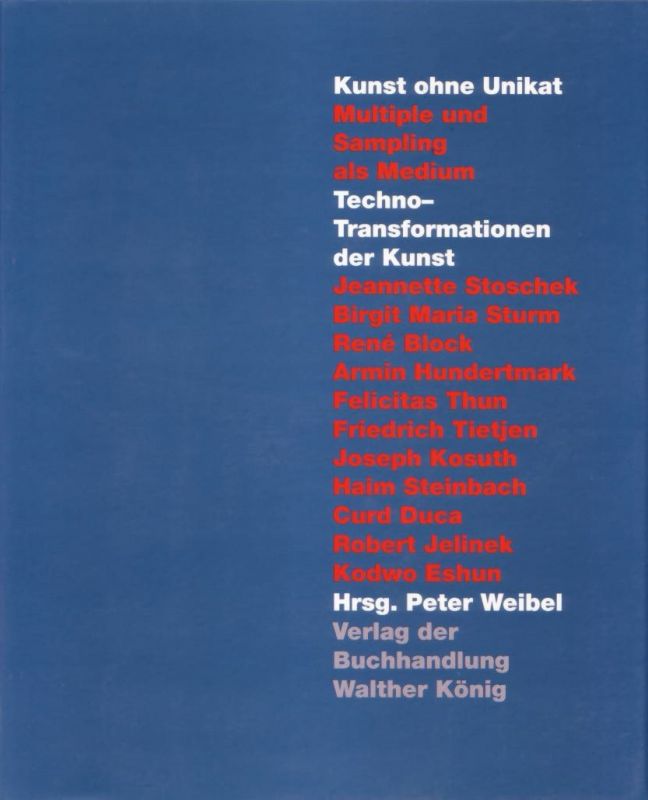 Article Number: 6927
Hard Cover,
German
, Thread Stitching, 125 Pages, 1999, Joanneum
Kunst ohne Unikat.
Multiple und Sampling als Medium :
availability unknown, if interested please write an email
Techno-Transformationen der Kunst. Art without the unique. Multiple and sampling as media: techno-transformations of art Wie in den fünfziger Jahren die elektro-akustische Musik das Modell für die Avantgarde bildete, so auch heute die digitale Audio-Technologie für emanzipatorische Praktiken der Kunst.
Im Schatten der klassischen Kunst hat sich eine demokratische und somit populäre Kunstform entwickelt, die sogenannte Auflagenkunst. Bei dieser Kunstform, die auf historische Techniken der Bildmedien vom 15. bis zum 19. Jahrhundert (Holzschnitt, Kupferstich, Radierung, Aquatinta, Lithographie etc.) zurückgeht, gibt es im 20. Jahrhundert aufregende und entscheidende Entwicklungen, insbesondere seit den 60er Jahren. Die Entwicklung ging von der Serigraphie über das fotomechanische Offset-Druck-Verfahren bis zu dreidimensionalen Objekten. Dabei wird das Multiple, die Ars multiplicata, die vervielfältigte Kunst fälschlicherweise als Auseinandersetzung zwischen Original und Kopie bzw. Original und Reproduktion verstanden. Man verwechselt die Begriffe Original und Unikat. Der Singularitätsanspruch verliert auch beim Subjekt des Künstlers selbst an Gültigkeit. Nicht als Einzelner kreiert der Künstler das Werk, sondern in der Regel gemeinsam mit anderen z.B. einem Techniker, Handwerker oder dem Betrachter. Durch diese Emanzipation kollektiver und begrifflich mehrschichtiger Erzeugungsprozesse, hat das Multiple grundlegende
Veränderungen in der Kunst des 20. Jahrhunderts eingeleitet und bewirkt.
Das die Ausstellung einleitende gleichnamige Symposium versuchte mit führenden Fachleuten erstens den Begriffsstreit zu klären und zweitens zu zeigen, daß die Auflagenkunst seit Marcel Duchamp (1913) weit über das Gebiet der Druckgraphik hinausgegangen ist.
Sprachen: Deutsch, Englisch