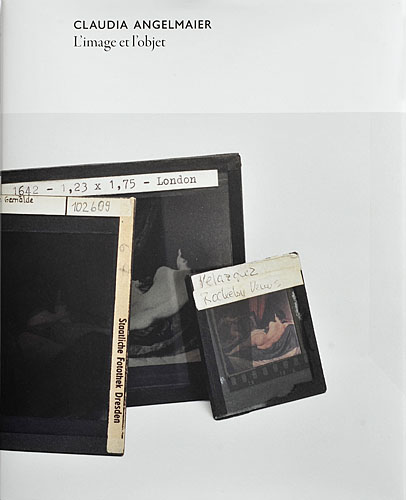 Article Number: 737
Hard Cover,
German
, Staple Binding, 64 Pages
L'image et l'objet
Claudia Angelmaier
availability unknown, if interested please write an email
Claudia Angelmaier
Die Absolventin des Fotografiestudiums an der Hochschule für Grafik und Buchkunst in Leipzig bei Timm Rautert hat die Repräsentationsfrage von Kunst zum Ausgangspunkt ihrer fotografischen Arbeit gemacht. Angelmaier interessieren dabei die Kontexte, in denen Bilder von bekannten Beispielen der Kunstgeschichte auftauchen.
Aus einer analytischen fotografischen Recherche entstehen großformatige Fotografien von Postkarten, Dias und Büchern, die "Meisterwerke der Kunst" als Reproduktionen zeigen.
Claudia Angelmaier positioniert sich mit ihren Arbeiten in einer Entwicklung, die ausgehend von Louise Lawler und Sherrie Levine in den späten 1970er Jahren Grundfragen der Appropriation Art in der aktuellen Kunstproduktion neu verhandelt.
Claudia Angelmaier, * 1972 in Göppingen, Germany. Lives and works in Leipzig and Berlin.