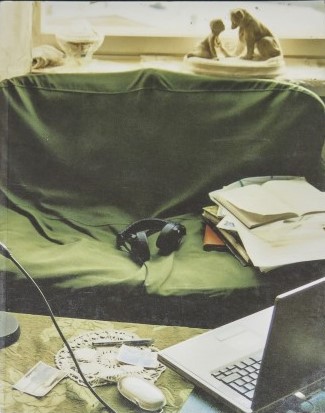 Article Number: 8406
Soft Cover,
English
, Thread Stitching, 120 Pages, 2006
Laura Horelli
Interviews, Diaries and Reports
availability unknown, if interested please write an email
Laura Horelli works with montage to confront the reality of 'official' images and messages from society, politics, the media or economics with those from her own perspective. She manages, in the meeting of these two 'realities', to open up zones of the imaginary that permeate and determine daily human experience in many ways.
Horelli is a structural thinker who applies her deliberate, subjective interest to places where questions of power that are negotiated on various levels come into play.
Laura Horelli dedicates herself to themes and their associated places, always with the intention of making it possible to experience the points of intersection between the so-called public and the so-called private. To that end, she uses documentary material that she edits together in a very specific way with her own images, information and texts to produce other kinds of relationships in these installations of photographs, texts and/or video. In so doing, she opens up communicative spaces that are always highly psychological in nature, in which the levels of 'public' and 'private' are constantly displaced and criss-crossed. Languages: English, German, Finnish, Japanese