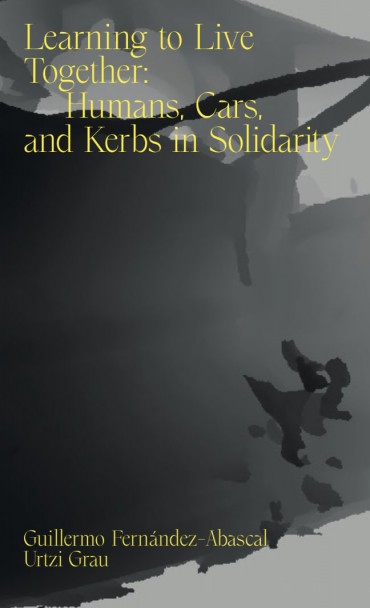 Article Number: 12190
Soft Cover,
English
, Glue Binding, 200 Pages, 2021
Learning to Live Together
Humans, Cars, and Kerbs in Solidarity
€ 19.00
We are on the verge of sharing our cities with autonomous vehicles. Recent developments in driverless technologies are having an impact on our urban environment, raising questions about how self-driving vehicles could be integrated into our daily lives.
Automotive and technological industries are not only developing the vehicles but also envisioning the future of our cities, a future where streets have seamlessly integrated driverless technologies and humans wander about, unconcerned by the presence of new automated machines circulating at high speeds through public space. These visions skip to a distant time and ignore the issues that these vehicles raise in the immediate future.

In response to such an oversight, this essay and the accompanying meditations explore the conflicts soon to be unleashed by this new technology and the transformation of our streets it will trigger. The current implementations of driverless technology, which are fast and disruptive, do not suggest an eventual integrated urban solution. Yet this book allows us to imagine how humans and cars might collectively influence the urban environment.

Contributions: Ibiye Camp, Brendan Cormier, Noortje Marres, Hamish McIntosh, Simone C. Niquille / Technoflesh, Marina Otero Verzier, Tomás Sánchez Criado, Brenton Alexander Smith, Lara Lesmes + Fredrik Hellberg (Space Popular), and Liam Young.