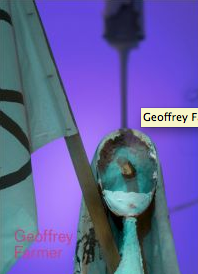 Article Number: 6172
Soft Cover,
English
, Glue Binding, 104 Pages, 2013, Kunstverein Hamburg
Let's make the water turn black
€ 39.10
Geoffrey Farmer is a unique and disconcerting voice in Canadian art. Borrowing elements from conceptual and installation art, he combines poetry and social commentary with specific cultural histories and memories. He presents these findings in a new and unfamiliar light, creating playful and visually entrancing works.
Let's Make the Water Turn Black is his most technically ambitious installation to date. Over 70 sculptures have been constructed from found materials, salvaged movie props and discarded theatre sets which he presents as an ensemble on a large platform. Animated by computer, in an environment of changing coloured light, the population of characters are choreographed into a mechanical performance. They move slowly in response to musical compositions.
Language: English