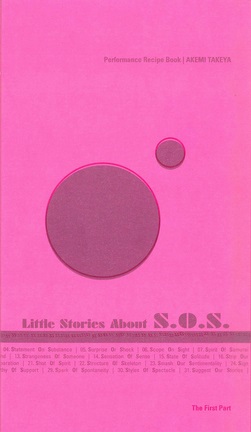 Article Number: 6761
Soft Cover,
English
, Thread Stitching, 90 Pages, 2014, IMEKAproduction
Little Stories About S.O.S. Vol. 1
Performance Recipe Book
€ 18.00
"The Performance Recipe Book – Vol.1" is written for both Group and Solo Version, as a creative documentary note as well as an educational resource.
It sets the performer(s) the task to take up the challenge of realizing 32 interpretations out of these "Performance Recipes," which focus on accessing and sharing the experience either with the book through practicing the recipes or by performing in front of an audience. The recipes in this book are easy to learn in a short period. One can also simply enjoy seeing patterns of physical interpretation, just like a game.
Language: English