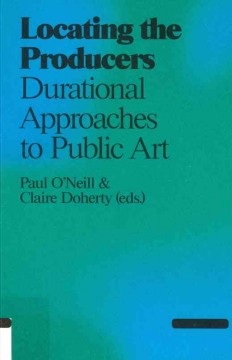 Article Number: 2960
Book with medium,
English
, Thread Stiching, 422 Pages, 2009,
Locating the Producers
Durational approaches to Public art
€ 22.00
Locating the Producers explores how 'durational' processes to public art curating and commissioning have emerged as an alternative to nomadic, itinerant and short-termist approaches in recent years. It provides an in-depth analysis of five durational projects as its starting point: The Blue House, and Beyond, the Netherlands, Trekroner Art Plan, Denmark, and Creative Egremont, and the Edgeware Road Project, United Kingdom.
This book provides a dynamic assessment of different curational methodologies alongside critical reflections on durational projects as counter-spectacles. The authors explore how and why artists and curator-producers are adopting durational approaches to commissioning contemporary art for specific places and how each process conceives of time as part of a cumulative curational practice.