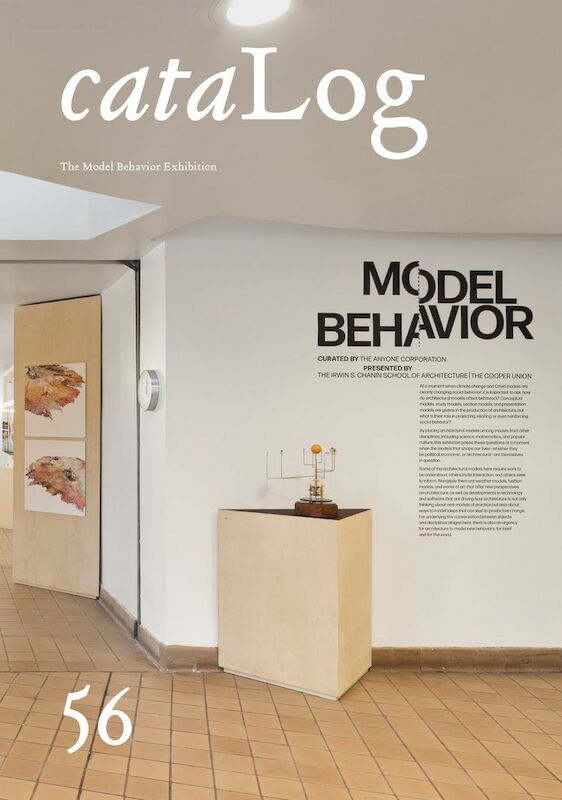 Article Number: 12435
Soft Cover,
English
, Glue Binding, 160 Pages, 2023
The Model Behavior Exhibition cataLog
LOG 56:
€ 20.00
This special issue is the cataLog for "Model Behavior," a group exhibition of models, architectural and otherwise, curated by the Anyone Corporation and presented by The Irwin S. Chanin School of Architecture at The Cooper Union, in New York City. The exhibition, which ran October 4–November 18, 2022, questioned the role of the model in projecting or eliciting social behavior.
In addition to documenting the 55 exhibited works with four-color images and project descriptions, the 160-page cataLog includes essays by curator Cynthia Davidson; by architecture theorists Jörg H. Gleiter, Kiel Moe, and Christophe Van Gerrewey; and by art historian Annabel Jane Wharton.

MODEL BEHAVIOR

OCTOBER 4 – NOVEMBER 18, 2022

A GROUP EXHIBITION CURATED BY THE ANYONE CORPORATION AND PRESENTED BY THE IRWIN S. CHANIN SCHOOL OF ARCHITECTURE OF THE COOPER UNION FOR THE ADVANCEMENT OF SCIENCE AND ART

Models, whether physical or digital, are intrinsic to architecture. Just as science, mathematics, politics, economics, and other fields use models to visualize, reflect, and predict behaviors, so do architectural models. "Model Behavior," a group exhibition curated by Log editor Cynthia Davidson, designed by New Affiliates (Ivi Diamantopoulou and Jaffer Kolb), considered how architectural models contribute to shaping social behaviors. Model Behavior featured 70 works and objects by 45 artists and architects including artists Olafur Eliasson, Isamu Noguchi, Ekow Nimako, and Thomas Demand, and architects Peter Eisenman, Darell Wayne Fields, Greg Lynn, Forensic Architects (Eyal Weizman), First Office (Anna Neimark and Andrew Atwood), MALL (Jennifer Bonner), Ensamble (Débora Mesa and Antón García-Abril), and Höweler and Yoon (Eric Höweler and Meejin Yoon).