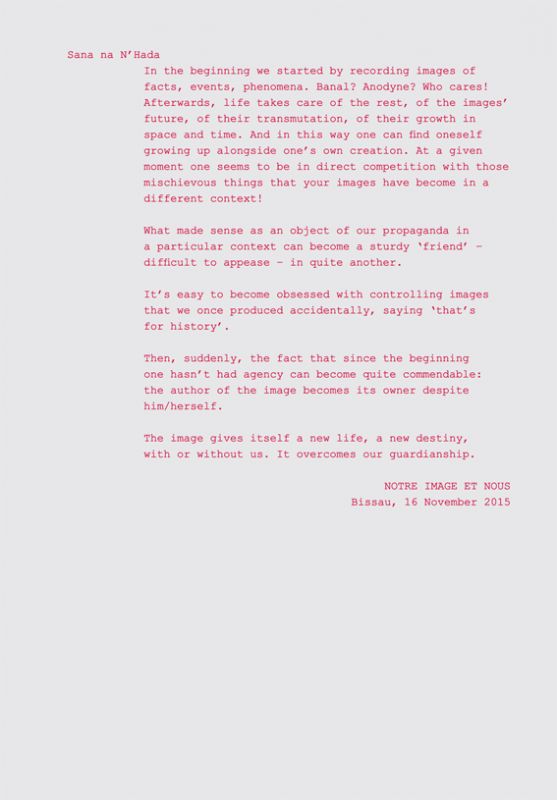 Article Number: 9594
Soft Cover,
English
, Thread Stiching, 422 Pages, 2017
Luta ca caba inda. Time Place Matter Voice. 1967–2017
a collective book
An archive of film and studio material in Bissau.
On the verge of complete ruin, the footage testifies to the birth of Guinean cinema as part of the decolonising vision of Amílcar Cabral, the liberation leader who was assassinated in 1973. In collaboration with the Guinean filmmakers Sana na N'Hada and Flora Gomes, as well as many allies, Filipa César imagines a journey where in this fragile matter from the past operates as a visionary prism of shrapnel, with which to look through. Digitised in Berlin and screened at various locations – in what would come to resemble a transnational itinerant cinema – the archive convokes debates, storytelling and forecasts. From their screening in isolated villages in Guinea-Bissau to European capitals, the silent reels are now a place from which people might search for antidotes to a world in crisis.
Filipa César is an artist and filmmaker interested in the fictional aspects of the documentary praxis, the porous borders between cinema and its reception, and the politics and poetics inherent to moving image. Her work takes re-animation of media and its materiality as a means to elaborate on counter narratives to historical violence.
Language: English