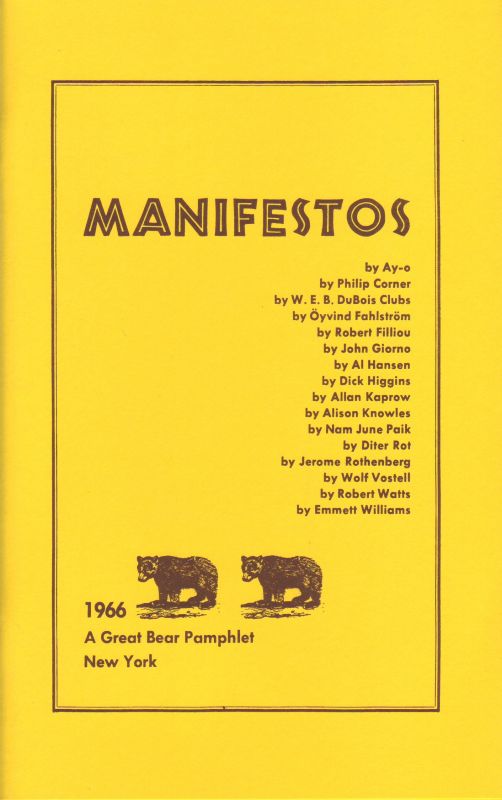 Article Number: 2046
Soft Cover,
English
, Staple Binding, 31 Pages, 1966,
Manifestos
Great Bear Pamphlet
availability unknown, if interested please write an email
On my way out of the Walker Library the other day a little red spine caught my attention. I grabbed the hardback book off the shelf and started paging through and was immediately charmed by what I was seeing and reading. What was bound between those two red covers was a small sampling of the Great Bear Pamphlet series. Each pamphlet is simply produced with black printing on colored sheets of paper (each pamphlet a different color) except for Cage's poem DIARY: How to Improve the World (You Will Only Make Matters Worse) Continued Part Three (1967) [fig. 1, and 4] which uses multicolored, and shifting type-faces to help realize his idea. The overall affect is a beautiful stack of reading.
POET AND COMPOSER DICK HIGGINS founded Something Else Press in 1963 to publish the experimental writing and manifestos of the artists, authors, and musicians he knew in connection with the New School in New York City. In 1966–67, he issued a batch of pamphlets, most only sixteen pages in length, that featured concrete poems, undoable acts, unactable plays, collages, and diaristic edicts by the likes of John Cage, Claes Oldenburg, Jackson Mac Low, Jerome Rothenberg, Dieter Roth, David Antin, and George Brecht. Many of these slender publications proved to be seminal statements of the avant-garde, not to mention of the broader cultural scene. (Allan Kaprow describes the first Happening, at sculptor George Segal's farm, in one of them, and the further origins of performance art might be traced to Oldenburg's "scenarios" in Injun and Other Histories.) The twenty wispy books that appeared under the imprint Great Bear have long been scattered to the winds and relegated to museum collections, but now Primary Information has produced a set of nostalgically ad hoc–looking facsimiles, ribbon-bound in an unvarnished wooden box and offered under the name Great Bear (distributed in the US by DAP, $150). Among them, you'll find Rothenberg's Ritual: A Book of Primitive Rites and Events, which details, for instance, "Beard Event: The men shave and fashion Van Dyke beards. The women paint" and "Language Event I: Abolish words bearing any affinities with the names of the participants, and substitute new ones in their stead." In one manifesto, gathered among sundry others by figures such as Robert Filliou, Alison Knowles, and Nam June Paik, Higgins defines the aesthetics of the moment (and elucidates the name of his press): "When asked what one is doing, one can only explain it as 'something else.' Now one does something big, now one does something small, now another big thing, now another little thing. Always it is something else." As moments go, it was the apotheosis of goof. Printed on pastel grade-school construction paper and housed in what looks like a Boy Scout crafts-project box, the Great Bear pamphlet collection powerfully recalls the improvisatory derangements of the time.