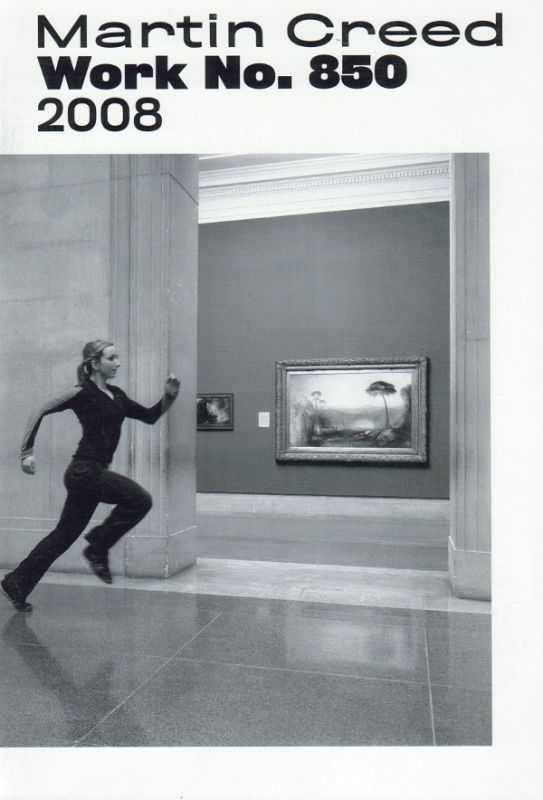 Martin Creed
Work No. 850. 2008
availability unknown, if interested please write an email
A runner will speed through Tate Britain's dramatic neo-classical sculpture galleries, again and again, running as if their life depended on it, every day for the next four months. The tightly choreographed live performance Work No. 850 has been specially devised by Martin Creed for the Tate Britain Duveens Commission 2008 sponsored by Sotheby's. Work No. 850 centres on a simple idea: that a person will sprint as fast as they can every 30 seconds through the 86 metre gallery at the heart of Tate Britain. Each run is followed by an equivalent pause, like a musical rest, during which the gallery is empty.
Work No. 850
is about the purest expression of human vitality. This investigation into the body celebrates physicality and the human spirit, the constant ebb and flow of nature.
Work No. 850
presents the beauty of human movement in its purest form, a recurring yet infinitely variable line drawn between two points.
Creed's Work No. 850 is the latest in an ongoing series of contemporary sculpture commissions in the Duveen Galleries at Tate Britain, which now, through the generous support of Sotheby's, is an annual event. Previous contributors to the biennial event included Mark Wallinger (2007), Michael Landy (2004), Anya Gallaccio (2002) and Mona Hatoum (2000). The series builds on a long tradition of exhibitions in the Duveen Galleries, which has included memorable installations by Richard Long, Richard Serra and Luciano Fabro.
This book is published on the occassion of the 2008 Tate Britain Duveens Comission.
Martin Creed was born in Wakefield, England in 1968. He studied at the Slade School of Art, London from 1986-1990.